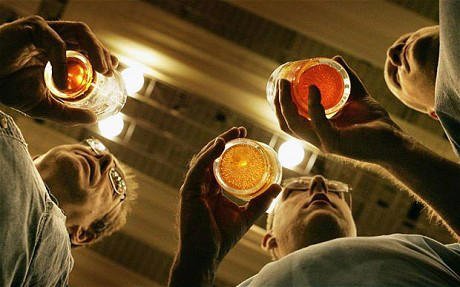 Let's talk BEER!  As Ben Franklin once said "Beer is proof that God loves us and wants us to be happy."  I agree!  And if you want to market your company or organization, you might want to consider this demographic.  Especially with the rapid growth of Craft Beer Drinkers in the United States, reaching beer drinkers is a great marketing goal!
So let's take a look at some great promotional items that are sure to reach the beer drinkers heart.
SiliPint:  What is the SiliPint?  It is the world's first Silicone pint glass…and it can't be broken!  You can dishwash it, drop it, freeze it, bake or even hit it with a golf club!  You can't break it!  And as a good friend of me once said "Drunk people drop sh#&$%!"  🙂  If you want your message to be kept for a long time…the SiliPint might be a cool idea!
Offero Beer Glass:  For the true Craft Beer drinker, this is a cool gift.  (You may have seen this mentioned before on the Coffee Drinker blog too).  The idea is the back of the cup is higher than the front so your nose is totally inside the cup.  This enhances the smell and the taste of the beer. You might want to give this a whiff!
Classic Paddle Bottle Opener:  If you get a nice 6 pack of beer, you will need an opener.  And if you are like me, yours tend to walk off sometimes.  So it's great to get a nice one!  This is a really great opener with a huge imprint area and plenty of color.  I really like this one…and have it in my kitchen.  Check it out here.
Govinno 16 oz Beer Glass:  The award-winning Govino beer "glass" is actually not glass at all. It is made from a food-safe, BPA-free polymer, which reflects a beer's color and projects its aromatics much like crystal. It's ideal for lagers, ales and weissbiers too.  So again…no breaking of your Beer Glass!
12 Can Duffel Cooler:  In case you want to take a few cold ones to the beach or the lake or the game, this 12 Can Duffel Cooler can be perfect.  It's a great size because it's easy to carry (not too big) but can hold several beverages (not too small).  I use this cooler bag all the time!
64 oz Growler:  If you know a Craft Beer Drinker, then you know someone that wants a Growler!  The Growler is the perfect vessel to transport a beer from a microbrewery to home.  Great to try new beers…and great to get beers you love when you go back.  Check this one out here. Now these are just a few!  Let me know if there are other products that I forgot!  Cheers! Want more great content like this?  Sign up for our VIP list!  Get access to our weekly content and special deals…by simply going here!  Sign up today!