Creating a Branded Collection Can Elevate Your Brand
If you are a sports fan, you might remember being encouraged to "Be Like Mike."  There was an entire generation who idolized Michael Jordan and wanted to emulate his moves on the basketball court.  More recently, if you were a fan of soccer (or football for those of you outside of the U.S.), you might remember trying to "Bend it like Beckham."  Anyone with a soccer ball was trying to spin it so it curved into the net.  It was a sight to behold!
Now, if you are reading this blog, I want to encourage you to "Crush Collections Like Commonsku!"
Okay…maybe it doesn't roll off the tongue quite so easily (I will work on it), but the message is similar.  If you want to create a brand that people want to wear, support and be fanatical about, you should pay attention to want the good people at Commonsku are doing!
Building A Brand With Apparel
As I mentioned in this article, there are different ways to create value for your brand using Promotional Products.  The first, and most common, is to use the vehicle (whatever that may be) to put your logo, phone number, and contact information on it to give it lasting impact.  This has a ton of value when done right.  When I first got into the business, I was taught to put the "who, what, where" message of any business on the item.  This gives customers and prospects a way to contact you at their fingertips.  It's powerful.
But another way to create loyalty with customers is to create a "collection" of products that find their way into your audiences every day life.  When done right, this can back up the brand you are building, the story you are telling and create real and lasting loyalty.  Oh, and it makes your customers a walking, talking billboard for your brand too!
Commonsku is a master at this.  Let's take a quick look at how they make it happen.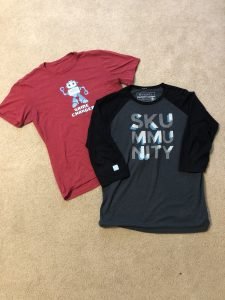 Think Cool and Comfortable
As I type this, it's a cool spring day in Ohio.  I am a little embarrassed to admit I am currently wearing three different Commonsku apparel items!   Why?  Is it because I want to run around Coshocton promoting the Commonsku platform?  Not exactly.  I am wearing them because they are good looking and very comfortable.  Your clients will choose their apparel the same way.  Your collection should have a fun, cool design and be super soft and comfortable.  This is what they will go in their closet and select again and again.
Partner with Amazing Suppliers
There are plenty of people in the promotional world who are very comfortable doing things "the way they always have."  That's fine…unless you want to create something memorable.  As Seth Godin would say, "If you want to be remarkable, you need to make something people will remark about."  Commonsku knows that doing things the way they have always been done will not create a collection that will "crush it."  So they have partnered with some great supplier partners willing to think outside of the box.  They created t-shirts that are super soft with T-shirt Tycoon, hoodies that are so comfy with Sanmar, and even an amazing pair of joggers (that I am wearing right now) with Redwood Classics.  There are others too, but I only have so much time here.  Regardless, when you decide to create your collection, work with people that help you think outside of the box so you can create something your customers will crave!

Cover the Apparel Bases
As I mentioned, I am wearing three different pieces from the Commonsku collection right now.  Why?  Because they have covered the bases!  I don't just have one item to wear to rep their brand!  I have a t-shirt, joggers, and a cool hat (from BamBams).  As the weather gets cooler tonight I have a zip up hoodie that I love to wear.  And when I want to dress it up on Monday, I have some cool and colorful socks to spice up my outfit.  All in all, they cover any and all of the apparel items I might want to wear.  When you create a collection for your clients, make sure you think of all of the ways they might want to rep the brand!
Listen to the Audience
One final piece of advice, especially as you get going, is to listen to the audience you want to reach!  At a recent Commonsku event, co-founder Mark Graham stood on stage and talked about the term "Skummunity" (now on the shirts for the event) and how the audience coined the term to label the Commonsku community.  Mark said, "I wasn't sure about it.  But everyone seems to like it, so here we are!"
So many times, we have ideas about what our customers will love…and we might be right.  But sometimes the best feedback for what to do next, or what design might work best, can be right in front of you.  Make sure you are continually listening to your passionate group of customers as to what apparel piece will be the next big thing!
When considering what to do next with your brand, think about creating a collection that your customers will love to wear.  It might be just the thing that will help to take your brand to the next level!
If you want help with your next Promo campaign, you can always start here.  Make sure you never miss an update!  Sign up for our VIP newsletter here!