In today's culture, it feels like "headline reading" is an Olympic sport.  Every day we are bombarded with the salacious, sensational headlines that predict the doom of one thing or another.  Then, to compound the problem, most people never seem to read the article!  So we live in a time when people are under-informed and over-reacting.
One of the headlines that I have seen parroted quite a bit is the idea that "direct mail is dead."
The idea behind the headlines and the article is that direct mail has lost its effectiveness over the past 10 years.   Here's the problem with this rationale.  It's not the medium.  It's the execution.   This is true of any marketing technique or platform.  If you are not executing well on the idea or the platform, the marketing will not work.  In those moments, marketers and entrepreneurs will throw up their hands and say "direct mail doesn't work."
Maybe it's you.  Here are a few ways to improve your direct mail impact quickly and easily.
Make it Colorful
We are proud of a simple direct mail piece we did recently for one of our clients.  The Physicians and staff were moving to a new location and they wanted to let the community know.  We helped to craft a plan that included social media, press releases, and direct mail.  We opted for a colorful postcard that included good-looking images and graphics so they would not be missed in the mailbox.  The results were sharp and got attention.
Make it Bumpy
Bumpy mail (or dimensional mailers) are packages that are odd-shaped or bumpy. This unique shape calls to the customer or prospect "open me!" Curiosity will help you "kill the cat" because your potential client will want to know what is in the package. But don't just take my word for it! Let's take a look at a study done in 1993.
This study, done by Baylor University, sent packages to 3000 school administrators. They were divided into three groups. The first group received an envelope with a sales letter, sales collateral, and postage-paid business reply card The second group received an envelope with similar contents plus a promotional product. The third group received all of the contents listed above, delivered in a box with a die-cut slot, instead of an envelope. The results (as you might expect) were impressive.
Those who received a promotional product in a dimensional package responded at a rate that was 57% higher than those who received the same promotional product in an envelope!• Response rates for the dimensional package recipients were 75% higher than for the group who received only a sales letter! In case you were skimming, you might want to read that last line again. Response rates for the dimensional package recipients were 75% higher! Wow!
Add Value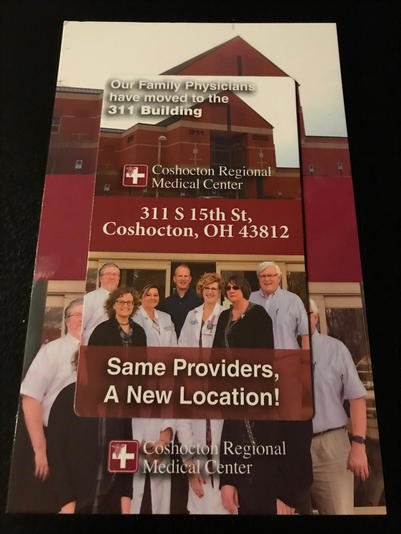 As we look at the postcard we sent out for Coshocton Regional Medical Center, you will notice a magnet too.  We wanted to provide the information AND an easy way to keep it handy!  So we added that simple attachment to add value to the recipient.  It's a simple, cost-effective, and powerful way to make your next mailing more impactful. So Direct Mail is not dead.  As a matter of fact, done well, you can really stand out in a sea of "blah" in the mailbox.
Want to learn more about direct mail or our print capabilities?  Head to our print page here…and contact us with questions.  Make sure you never miss an update!  Sign up for our VIP newsletter here.