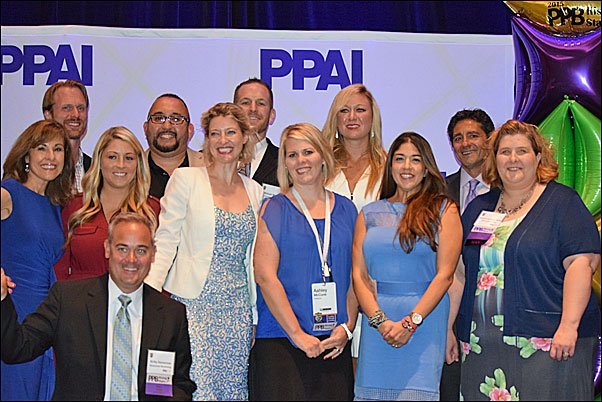 Kirby Hasseman, the owner of Hasseman Marketing, was recently named one of 10 "Rising Stars" in the Promotional Products Industry.  Hasseman received recognition at a reception in Nashville at the opening of the PPAI North American Leadership Conference.
Since PPB launched the program in 2010, it has become one of the most sought-after honors in the industry.
"This year's PPB Rising Stars are quite an impressive group," says PPB Editor Tina Berres Filipski. "It's exciting to see what these individuals have accomplished in their short time in the industry and refreshing to see the skills and initiatives they are bringing to it. These are the most watchable young pros in the industry and we are delighted to spotlight them at this point in their careers." "It's such a huge honor to be recognized in the Promotional Products industry," says Hasseman.  "And it's great to a part of such a dynamic group." All 10 were on hand to enjoy the celebration in their honor including:
Jill Albers, executive director of global sales, Shumsky
Kirby Hasseman, owner, Hasseman Marketing & Communications
Jessica Hutwelker, MAS, account manager, Sunrise Identity
Andrea Jaeckels, MAS, training and project coordinator, AIA Corporation
Ray Jimenez, national sales manager, Pacific Western Sales
Michael Marias, director of sales—Midwest Region, Hit Promotional Products
Ashley McCune, vice president of marketing and communications, Facilis Group
Sasha Pirrie, vice president of sales, western region, Logomark
Adam Taylor, vice president of development, Essent Corporation
Megan Zezzo, outside national account rep, Jetline
Hasseman was recognized for making an impact in the industry through content creation and education.  Hasseman wrote the book Delivering Marketing Joy and has created a web show with the same name where he interviews business leaders around the world.  More details on the award and individual profiles will be featured in the PPB magazine in the September issue.