Riddle me this.  We are living through a strange season in the world today.  We have pandemics, racial injustice and murder hornets.  Nearly every event in the country is on hold or has been shut down and in-person meetings have all but stopped.  So how do you create a successful company launch during this time?  For that matter, how do you create buzz and excitement around any new product or initiative when we can't see our customers face to face and everyone's attention seems to be more distracted than ever?  How do you successfully launch?
Let me introduce you to brandivate.

In the interest of transparency, the folks at brandivate are my friends.  I got to watch, up close and personal, how they decided to start a company during a pandemic, and I was privileged to be one of their "brandvocates" (I will explain in a moment).  But regardless of my personal relationship, brandivate created a Masterclass on how to launch a company (or product, or initiative) during these strange times using Branded Merchandise and Social Media.  I was so impressed.  So I wanted to share the story, and a few lessons that might help you in your next launch.
What Did They Do?
brandivate is a marketing, coaching and consulting company specializing in the Promotional Products industry.  Led by two industry professionals, Bill Petrie and Kelsey Cunningham, brandivate wanted to announce their new business venture with as much fan fare as possible on a very limited budget.  Sound familiar?  So with that in mind, Bill and Kelsey created a curated box of nice branded merchandise and sent them to a select group of friends in the promotional industry.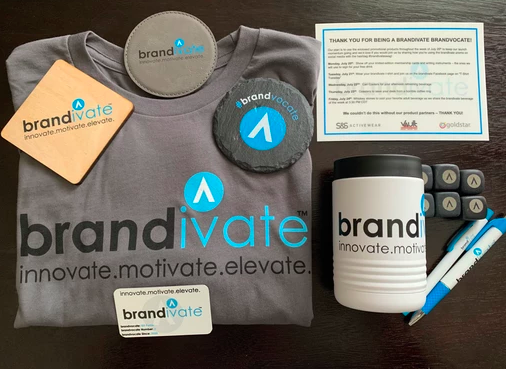 In the box was a personalized and numbered membership card (or brandvocate card) for each person, a nice, soft tri-blend t-shirt (you know I love soft t-shirts), coasters, and more!  It was a great group of products!  Finally, included in the box, was a card that explained the concept, the items and gave suggestions on how to post on social media to help create a buzz on social media about the campaign.  If you want to dig deeper into the exacts of the campaign, Bill posted about it on his blog here.  
What happened with the group was really cool.
As you might expect, the friends and influencers in the industry were delighted with their "swag boxes," and wanted to help.  So on Day 1 there were a few people that initially posted the Membership card and pens (as requested).  Then the group started to get more creative.  And as the week went on, the brandvocates all started to compete (in a friendly and unorganized way)  to see who could come up with the most creative post.  It was a fun competition among friends in the industry, all on behalf of brandivate…and it created quite a buzz in the Promotional Products industry.
As a side note, if you want to know the winner of this friendly competition, it goes to David Shultz who created this video to post on the Brandivate Facebook page.  How fun is that?
The gang at brandivate delighted a few fans, raised the awareness of their launch (during a pandemic no less) and created a buzz on Social Media.  That's great.  But did it garner results?  I asked for the details and here was was the answer to the question:
"Did you get business results from this campaign?"
Yes, yes, yes, and yes!   Numbers are still coming in but we can conservatively say we've seen a 30% increase in likes on the FB page, 15% increase on Instagram, 20% on twitter. We saw a 25% increase in content subscriptions on the website as well.
From a sales perspective, we have four active quotes as a direct result of the campaign with one of them doing the same type of social media launch for another company. Last, and this is the most challenging part to quantify, the engagement on social was far greater than we could ever have expected – almost to the point where it was impossible to keep up. When you couple that with the level of creativity on the posts, videos, and comments, we created a cost-effective, fun, and, most importantly, engaging way to make the brandivate brand feel like everyone was a part of the launch. 
And that, my friends, is why I say that you can still create an amazing product launch, initiative launch or even company launch right now…using branded merchandise as a catalyst.  Now here are some quick takeaways on what I think they did right!
Target Your Market
You might be thinking, "If this is such a great launch, why didn't I hear about it?"  If so that's cool.  They don't need you.  It's not that they are elitist.  They just know their market.  They focused specifically on their targeted audience.  That is one of the strengths of great branded merchandise.  It is incredibly targeted.  Kelsey and Bill reached directly into the market they were trying to reach…with no waste.
Select Great Branded Merchandise
When you create a campaign to launch a brand, the merchandise you select is directly representing you.  You don't have to buy the most expensive piece on the market, but now is not the time to be cheap.  Select quality.  You want to create an impression of high value.  And let's face it, the value of a branded product is determined when they are used over and over again.
Tell Them WHAT To Do
One of my favorite parts of the campaign was so simple, but often overlooked.  They told their "tribe" what to do to help them!  So many times, the people who love and respect you want to help you succeed in your venture, but they don't really know how.  Sure, maybe they can buy from you.  That's great.  But in creating this campaign the brandivate team told their 'brandvocates" exactly what to do to help make the launch a success.
So there you have it.  How do you successfully launch?  Here is a simple case study on how to use branded merchandise and social media to create a real splash with any campaign.
If you want to talk to someone on our team on how to help you create an awesome launch, head to our Branded Merchandise page here for more information!