If you are a marketer or an entrepreneur, you likely have more than a few challenges.  But one of them is most likely, where to spend your time and resources.  There is finite time and money, and you want to make sure you are doing the thing that will bring you the most return.  Mike Michaelowicz turned me onto this idea in his book "Fix This Next."  Mike created a "Business Priority Pyramid" so that entrepreneurs can decide what is the right thing for them to be working on each day.  I found this to be a powerful tool in order to make sure my efforts are going in the right direction.
But I find this to be a challenge for marketers too!  There are so many marketing options to spend your time and resources on, it can be tough to know what to work on next.  In addition, it seems like every day, a shiny new marketing tool comes out.  As marketing professionals, we want to stay on top of the latest trends.  But you don't want to spend all of your time distracted by the newest toy…and lose out on the foundation.
That is why we created our HMC Marketing Pyramid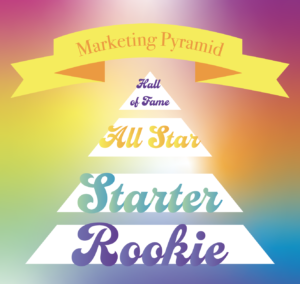 The concept is simple.  We have created our HMC Marketing Pyramid as a worksheet for marketers.  We have created levels so that you know where you are on your marketing journey.  It also helps you prioritize what you need to work on next (or budget to work on soon).  As you go through the pyramid, you want to check each box where you feel you are strong (or at least comfortable) where you are.  After you go through the whole checklist, go to the lowest part of the pyramid where there is an unchecked box.  That is where you need to start!  You need to have a strong foundation if you want a pyramid that is going to last.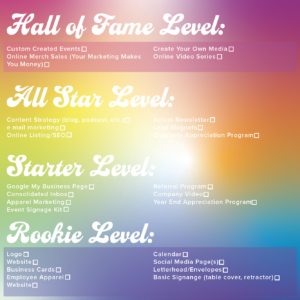 Rookie Level
If you love sports metaphors, you are going to dig this.  If not, think of this as the foundation of your marketing plan.  You might be starting a new venture, or you want to get back to basics.  You start at the Rookie Level.  At that level, you want to make sure you are happy with your logo, basic branding, website, and more.  If you leave something un-checked here, no problem.  It just shows you that it's time to work on that to move your marketing efforts to the next level.
Starter Level
And speaking of the next level, now you are a starter!  At this level, you have mastered the basics and you want to begin to be more intentional and more consistent.  This is when you "up your game" on communication and letting your best customers know you love your fans.
All-Star Level
All-stars take it to the next level, and that is exactly what this ranking means.  Once you have completed all of the tasks at Rooke and Starter, you can take bigger swings.  Sure you have social media pages, but do you have a plan?  Have you made the transition from rented media to owned media?  I talk about what that means here.  This is what happens at the All-Star level.
Hall of Fame
Marketers and entrepreneurs at the Hall of Fame level are truly building brands.  They have custom events to showcase their services and to connect with their tribe. Many also feature custom apparel that their customers actually pay to wear!  Now THAT is a brand!
So where do you land on the HMC Marketing Pyramid?  This is a jumping-off tool to help you plan what should be next for marketing your organization.  Let us know if you want to meet with one of our Hasseman Marketing reps to go over the pyramid…and plan the next steps!
And in case you missed it, feel free to sign up for our FREE 5 Day Marketing Course.  We would love to help you get your marketing back on track!