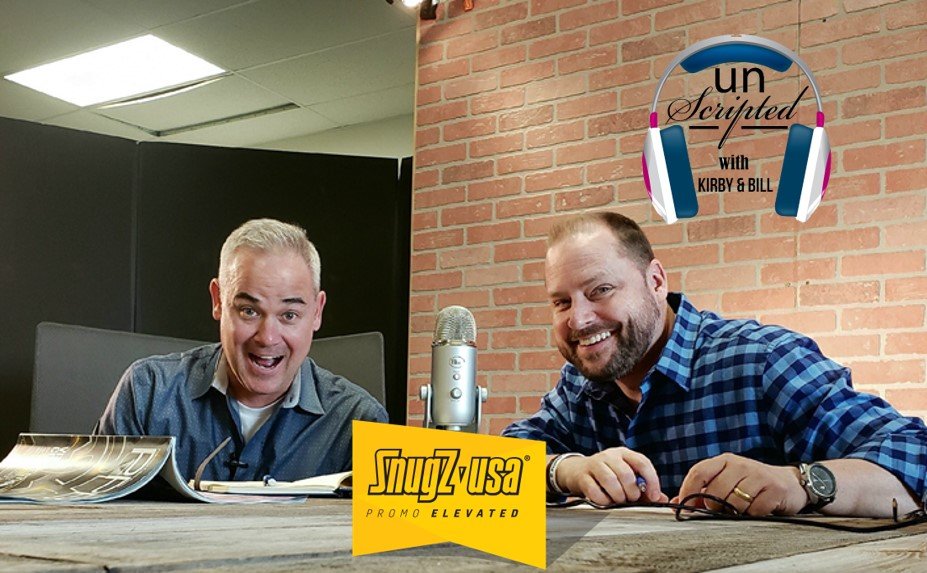 For over 3 years, Bill Petrie and I have been sharing our opinions on the marketing, branding and promotional products world on the unScripted podcast.  Every Friday, Bill and I connect through the magic of technology, and discuss trending topics in our world.  We call it unScripted, quite simply, because neither of us knows what the other is going to bring up so you get an honest, unedited view of our opinions and takes on industry topics.
I am proud of the podcast for several reasons.  We have been recognized with awards (humble brag).  We have received kind words from our peers.  And hey, it's been fun!  But the journey has taught me quite a bit as well.  So, if you are interested in starting a podcast or any other kind of content, here are some lessons I have learned from doing the unScripted podcast with Bill Petrie.
Consistency is King
One of the things I am probably most proud of is that we push play each week.  As I write this, it will be week 162 of the unScripted podcast.  That means we have put out a podcast for 162 weeks in a row.  It's a commitment.  But it's that consistency that has not only built an audience but has helped Bill and I grow.  We got better at podcasting.  We got better at choosing topics.  It's just like exercise.  It's about stretching and working those muscles that make you stronger.
Have Someone Who Pushes You
I am a believer in consistency.  But we would have never made it through this many episodes without Bill driving me.  It's so powerful to have someone who helps to keep you on track.  Bill has been an incredible teacher, coach and friend through this and I appreciate it.  If you want to try something big, and crazy and hard (and you should), it's great to have someone who pushes you and lifts you up.  Thanks Bill.
Be Authentic and Transparent
I almost did not add this one because it's almost cliche at this point.  But if you want to create something long term, it's nearly impossible to be someone you are not.  Sooner or later, your real opinions will come through anyway!  So be willing to put yourself out there.
Have the Courage of your Convictions
Some of the most interesting discussions we have had on the podcast (and then after) have been when Bill or I said something that upset people.  While that is certainly NOT our goal, we do want to create discussion and thought.  Whenever this happens, Bill and I both take the time to be introspective about our statements.  Do we really think that way?  If not, I think both of us are willing to say "Nah…I was wrong."  On the other hand, if we still feel strongly about something, I think that's important too.  Despite the reactive culture we have right now, I think we need to stand up for what we think as well.  Trust me when I say, sometimes that is easier said than done.
Lift The Other Person Up
Partnerships of any kind can be hard.  With that in mind, remember if you start something like this that "you are in the service industry."  It is really important that neither Bill nor I worry too much about credit.  That is easier said than done!  We all have healthy egos…and we all want recognition.  But if you want a partnership to last remember that it should not matter who gets the credit.
Continue to Try New Things
If you create something that requires consistency, there is the chance you can get in a rut.  That's why it's so important to be willing to try new things.  Be willing to experiment with your format.  Be willing to try new things and fail in order to find new things that work.  If you don't…it's easy to get stale.
Keep Going
And that leads nicely to my final lesson…keep going.  If it gets stale, or you get tired, it's super tempting to think "maybe now is the time to quit."  And while it's important to keep evaluating (in all things) I would recommend to keep pushing on.  Most of the time that is the voice of comfort in your head.  It's easier to quit than to persevere.  Most of the time, however, you are glad when you keep moving forward…even if it's just for one more day.
Those are my lessons from the unScripted podcast.  Again, thanks to Bill for helping me keep this train rolling!  If you have questions about content marketing, please feel free to reach out to me.  And if you want make sure you never miss a piece of content head to our blog page.