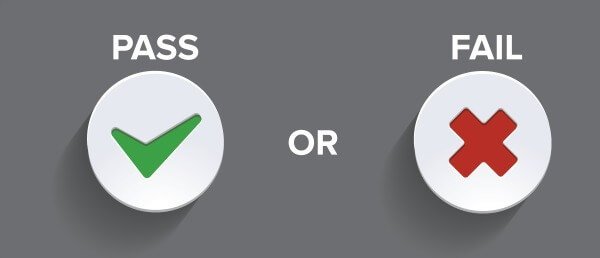 Earlier this year, when talking about weekly goals with my team, I had an epiphany about big goals.
Let me set the stage. I had recently read "The 4 Disciplines of Execution" and wanted to institute some of the principles.  (If you want to learn about the book, I wrote about it here).  In doing so, I had instituted a weekly meeting and we discussed what we were going to do to move the company toward that goal.  The goal of this meeting is to keep people accountable and to keep everyone rowing in the same direction toward a goal.
But I noticed a pattern of language that I didn't like.
If someone had set a goal for the week and didn't make it, they said something very specific.  "Well I wanted to make 5 cold calls this week.  I only got 4, so I failed."  Or they might say "I wanted to get 10 face to face meetings and I only had 7, so I failed this week."
Then it hit me.
Many people believe that GOALS are Pass/Fail.  That's one of the problems some people have with stretch goals.  They think if they don't reach them, they have failed.  I don't agree.  I love the idea of creating goals that stretch you.  My attitude has always been, "If I shoot for a crazy high sales goal, and almost make it, that's amazing.  That will be much better than shooting for a low goal and making it."
But that's not everyone's take.  Many people get discouraged.
So in that meeting I came up with another way of looking at a big/stretch goal.   I told the team, "Let's stop looking at these as Pass/Fail.  Let's start grading our success more like we did in school.  If the goal was 10 meetings and you only got 8, you didn't reach the goal.  But you did get an 80%.  That's a B!" This is not about letting people off the hook.  There is still accountability.  You want to get 100%.  But when it comes to most goals, progress (any progress) still counts.   So as you create goals for your coming year, don't be afraid to think big.  This new grading system might give you a bit of encouragement to "make the grade."
Make sure you never miss an update.  Today is a great day to become a VIP!  Sign up for our VIP newsletter here.