The New Year is an exciting time.  It can mean new goals, new budgets, and a clean slate for you and your organization.  When it comes to the branded merchandise world, it usually means it's time to check out new products.  And while this year there have been fewer new product rollouts (can you say supply chain?), there are still some new ideas to consider.  So at Hasseman Marketing, we are here to help.  Over the past couple of weeks, we have attended several trade shows (you can see a video about the big show here) in order to scope out just a few of the best and brightest.  Here is a list of 5 Hot New Branded Merch ideas for 2022.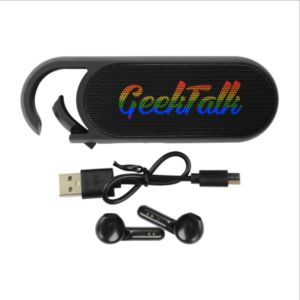 Sync Truly Wireless Earbuds and Bluetooth® Speaker Set
It's a Bluetooth speaker!  It's your wireless earbuds!  And it's a carrying case…all in one!  If you have a workforce or client base that loves tech, then this is a wonderful option for you.  You and your team can clip this to your backpack and be ready to travel with tunes at all times.  Click here to learn more.

Desk QI
The Desk Qi is a tabletop charging hub and stationery holder, featuring up to 10W of fast wireless charging (powered by type-c), and 2 additional USB-A ports for your electronic devices.  Showcase your brand or message up to a full-color imprint with this must-have at-home or office tech item!  Click here to learn more.

LAPGEAR Lap Desk with Device Ledge and Cushion Back
Most of us have set up amazing home offices and what do we do?  We work from our couch!  Whether you're collating spreadsheets or indulging in a full-season binge of your favorite show, this Lap Desk is there for you. The 17″ x 13.2" work surface is made from durable, high-impact polystyrene and accommodates up to 15.6-inch laptops. Thanks to the reinforced carrying handle and compact size, you can take this desk with you wherever you go.  This is the "tech" item that is not really tech.  Click here to learn more!

Stress Pop Flyer
Want something decidedly less "tech" and more "touch?"  We have you covered here.  This stress pop flyer is fun for kids or seniors (think improving circulation) and everyone in between.  This is a product that helps your brand to get back to fun.  Click here to learn more.

McStreamy – microphone and light ring
Look good, sound good, upgrade your virtual meeting game with the McStreamy kit. The bright 10″ ring light will keep you well lit and the studio-quality mic will make sure your audience hears every word.  This is the perfect gift for your virtual team or your content team.  And with this item…you can order just one!  Click here to learn more!
Those are just 5 of the Hot New Branded Merch ideas we saw over the past few weeks!  Now let's talk about how we can help you create marketing that is "hot" this year.  Please reach out to your HMC rep and set up a time to chat about your needs.  Don't have a rep?  No worries.  Click here to book a time to chat! 
Oh…and make sure you never miss an update.  You can become an HMC VIP here.