At Hasseman Marketing, we are all about creating content that provides you value, inspiration, entertainment, and (hopefully) some joy!  It's about "Giving First" and we are big believers!  But we have heard that sometimes, it's hard to keep up.  We get that.  And while it's totally okay if you are not able to see every piece of content we create, we don't want it to be because of a lack of effort on our part.  So I wanted to take just a moment to highlight a few pieces of content we are consistently cranking out.
Oh, and if you want to sign up for our VIP newsletter, you can do that here too.
The Monday Minute
Each Monday we create a motivational video for PromoCorner.  The idea is to give you a quick boost of motivation to start your week off on the right foot.  And because it's quick-hitting…we hope you can find the time!  If you have never taken the time to listen, you can find them all right here.  Feel free to binge-watch them all and get fired up!
In Stock and Ready to Rock
As we write this, inventory is a challenge in nearly every industry.  We have been talking about it a lot because we want to spare you some stress and headaches.  But we didn't want to just complain…that's not our deal.  So we created the "In Stock and Ready to Rock" shop.  Each week we will feature one item that has deep stock and is ready to be branded with your organization's logo!  Click here to check out the latest!
The Kirby Hasseman Blog
Each week I work to create a personal development article that might help you move your business in the right direction.  I often file these under "messages I need to hear," as they resonate with salespeople, entrepreneurs, and leaders that want to level up.  Here is my most recent (as I write this) about 3 Things To Do Every Day if you want to be more productive and happier.  If you enjoy that one…there's plenty more where that came from!
Delivering Marketing Joy
This is what I call the "OG" of our online content.  With over 350 episodes, that means we have been doing Delivering Marketing Joy for nearly 7 years.  Every Wednesday we interview leaders, marketers, entrepreneurs, and authors from (quite literally) all over the world.  This is one of the pieces that updates to our blog page each week, but you can head here to binge hundreds of episodes on PromoCorner.
Thirsty Thursday
One of our newest pieces of content has quickly become one of our most popular!  Each week we try a mystery drink in a different piece of branded merchandise.  Sometimes the drinks are good…but not often!  The reactions and the cool branded merchandise make it all worth while.  This is posted on our Facebook page and is just one reason why you should follow us if you are not already.  Watch the latest episode here!
Oh…and if you are interested in any of these pieces of drinkware for your organization, you can head to our shop here!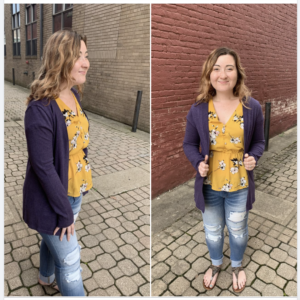 Fashion Friday
Each week we have some fun featuring a simple apparel piece for our Fashion Friday!  This is another Facebook/Instagram exclusive, so head here and give us a follow.
Ohio's Heart
Finally, I want to highlight Ohio's Heart.  Some of you may remember that we created OhiosHeart.com to highlight positive things going on in our region.  While I have been a bit distracted from this site, I still believe it has a great opportunity to spread the good word!  So we have been posting more to it recently (like this drone footage of a local expansion)…and I want to continue that trend.  So if your organization has some good news, please feel free to share with us!  Please add us to the list of press releases you are sending out to lift up the good news!
Whoo!  That's a lot of content…but we do it for you!  If you want to have most of this content delivered directly to your inbox, join our VIP list here.  Each week we send ONE email to the members of our list so you have it in one place!