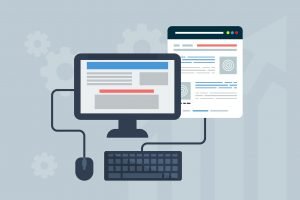 "Eric, I've had my website for 5 years, is it time to do a website redesign?"
This, or some form of it, is a question we get asked from business owners who understand the value having the right website brings to their business.  Some had made their own website when they were a startup entrepreneur, others have had a professionally designed website for years.
Now I think the answer we give normally catches them off guard.
In short, the answer is the good 'ole frustrating cliche; "it depends."
Signs It May Be Time For A Website Redesign
1. Your website focuses on you and not your audience.
If your website is all about you, your services, and/or your products; it's time for a redesign.  I'm not saying don't highlight your services or products, but does your website help the person looking at the site see them using and benefiting from what you have?
Don't list a product/service, demonstrate the benefit.  I love the saying; "no one buys a drill, people are buying the hole the drill will make."  What is the problem your product solves? And, why does your drill make getting the hole better than another drill?
2. Your website isn't up to date with best practices to provide an amazing user experience.
Is your phone number easy to access?  Is your address located at the bottom of every page in an area known as the footer?  Do you have enough contrast between colors so individuals with vision disabilities can easily read your site?  Is your website designed for people who use adaptive equipment?  How about security?  Does your website address have "http" in front of it or does it have what it should have with "https" in front of it?
If you answered no to these questions DON'T REDESIGN YOUR WEBSITE.  
Well, maybe redesign your website.  Some of these common mistakes can be fixed by just updating content.  If you'd like a custom audit free website audit, just click here and email me.  My name is Eric, and I'm the lead web designer for Hasseman Marketing.   I'll take a look at your site and let you know if it's compliant with the American's With Disability Act, how it compares to websites with best practices for user experience, and I'll show you exactly how you fix any issue on your own.  I promise to never email you again with a sales email.
3. Your website isn't ranking in search results.
When someone does a search on the internet looking to solve the problem your service or products solves, and they don't see your website in the search results, that's lost sales.  Sales that are going to your competition.  Ouch.
The hard truth about ranking in search results is this.  Google doesn't rank you, your competition does.  If their website is structured for Search Engine Optimization (SEO) and your's isn't,  They win.
Again, you may not need an entire redesign of your website, you may just need some tweaks to the content.
In fact, you can get a free audit of your site's SEO right now with our free tool.  Just enter your website's address and email below:
4. Your website looks and feels dated.
Unless vintage is your brand, a vintage feeling website isn't going to help you.  By now, it's just expected that a website will be responsive to different screen sizes.  It's expected that you'll have up to date information. I mean, have you ever been on a website and they had an announcement for something that happened three years ago?  If your site is not up to date, your visitors are quickly going to leave.
So, when is the last time you took a very close look at every word on every page of your website?  If it's been awhile, that's probably your first step.
BONUS INFORMATION
What's the benefit of a website redesign?
Simple.  A new site gives you something to promote.  It's an updated tool to help you do more business or reach more people with our message.  It helps you reconnect with current customers that have drifted away and helps you find new a new audience.
For example, we just did a redesign in the last couple of months of this website.  The results?  A 41% increase in visitors.  That's a big result that you could have for your website as well.
Again, feel free to take us up on our offer to look your site over by sending us an email here.  Or, use our free SEO audit tool above for a free instant report.