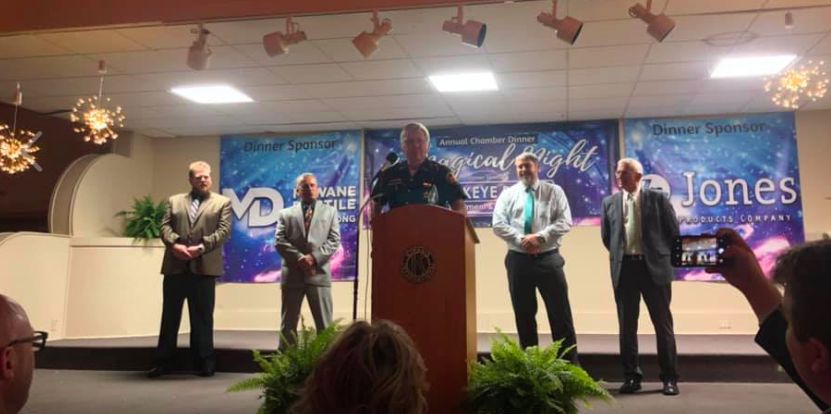 Each year The Coshocton County Chamber of Commerce hosts a celebration of Coshocton County at their Annual Dinner.  The event celebrates Coshocton's successes from the past year, and it's leaders.  This past Friday, the event was held at the Lake Park Pavilion in Coshocton County.  I am proud to have been able to be a small part of the event.  Below are some of the amazing recipients…and I have included the entire Coshoctonian Speech, celebrating this year's Coshoctonian, Chuck Hathaway.
Employee Of the Year:  Each year the Coshocton Rotary selects at least one employee in the county that shows the ability to go "above and beyond" in service to their employer.  This year the recipients were Mike Bechtol from WTNS Radio and Seth Dotson from Coshocton Regional Medical Center.  Congratulations to both recipients.
First Responder of the Year:  The Coshocton County Commissioners sponsor the First Responder of the Year.  This year, the commissioners recognized a first responder that has served Coshocton for over 60 years, Royce Emerson.  Congrats!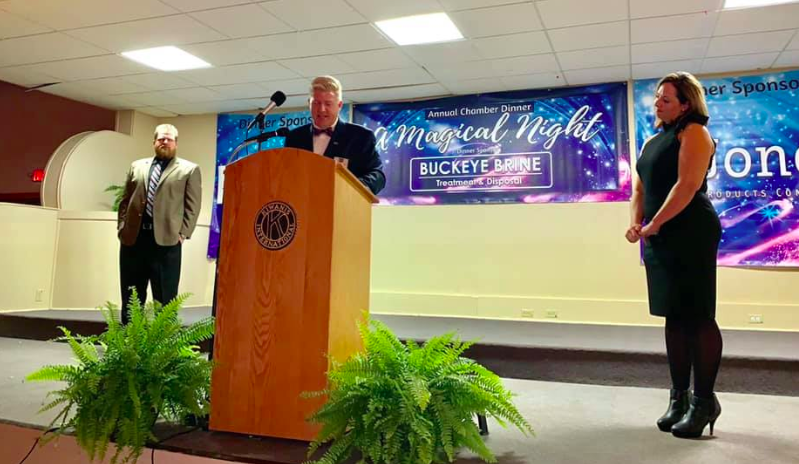 Young Leader of the Year:  COTC sponsors the Young Leader of the Year at each Annual Dinner.  The award celebrates a young person in the Coshocton County community that is helping to lead the community to success.  This year, the very worth recipient was the Executive Director of the Coshocton County Port Authority Tiffany Swigert.  At Hasseman Marketing, we have had the chance to work with Tiffany first hand, and we can say, we agree!  Congrats Tiffany!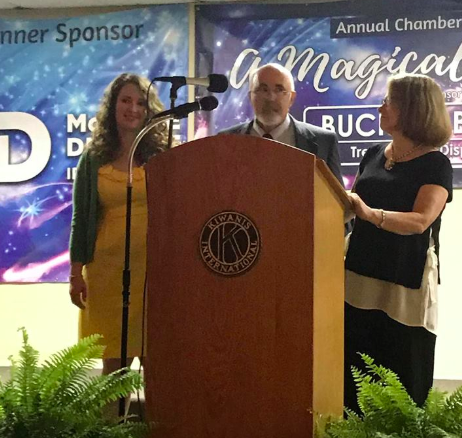 The Coshoctonian Award:  I am so honored to have the opportunity to prepare and present the Coshoctonian Award.  This lifetime achievement award is given each year and provides the roadmap to what service looks like in our community.  Below, you can find the entire Coshoctonian Speech.
Good evening and thank you all for attending. The Coshoctonian award recognizes an individual's "long term contribution to the well-being and economic climate of the community." The recipient must be a resident of Coshocton County. It is not the "Coshoctonian of theYear" award; rather it recognizes the totality of a person's contribution to our community during his or her lifetime. There have been no posthumous awards.
The members of the selection committee are the Chamber President, the Chamber Past President, the Chamber Executive Director, a representative of the city government (usually the mayor), a representative of the county government (usually the Chairperson of the Commissioners), and a past recipient (usually the previous year's). After studying the nominations, the committee decides upon a recipient during a meeting in February. Each year's selection has always been unanimous.
We are indeed honored to have with us this evening some past Coshoctonian Award winners. I will introduce them at this time and ask them to stand. Please do NOT withhold your applause, as each of these distinguished individuals deserves special recognition: Barb Emmons, Sally Bullens, Dr. Robert Gwinn and Kathy Thompson.
The Coshoctonian is one of the most prestigious honors our community recognizes.  The award recognizes the totality of achievements from any one individual, and is, in a sense, a lifetime achievement award for Coshocton's leaders.  In short, those who have been recognized as Coshoctonian have made a difference in our community.  Coshocton is a different, and better, place because they were (and are) here.
This can certainly be said for this year's recipient.   The best communities and organizations don't just happen…they are built.  They are constructed…brick by brick…layer upon layer.  This activity takes action…and people willing to take that action.  These builders are willing to step up, put themselves out there, lend a hand and serve.  In short, communities need builders.  This year's Coshoctonian is the consummate builder.
This year's recipient of the Coshoctonian Award is Chuck Hathaway.
Chuck truly is a builder.
And when you begin to think of telling his story, the term builder makes sense, right?
After all, he joined his father's construction business and started to build up Coshocton County both literally and figuratively.  As a matter of fact, it's hard to look around our community and NOT see buildings, structures and even parks that don't have Chuck's fingerprints all over them.
From the Roscoe Village Visitor Center, to Coshocton Hospital, to the First Step Women's Shelter to the Coshocton High School planetarium, (and oh so many more), Hathaway Construction has had a hand in shaping the look and feel of Coshocton.  They have helped to build the structures that we see every day.
And those of us that have created companies, know that Chuck did not just build buildings.  When you create a business, you are in charge of building a business, a team, and a culture.  When you own a business, you build a place where team members can grow and thrive.  You create jobs.  You are responsible for livelihoods and families.  You have to build that…over and over and over.
But Chuck's impact on Coshocton County only begins with Hathaway Construction.  Yes…that is only the beginning.
Chuck Hathaway was a huge builder of the Arts in Coshocton County.  He has been an advocate of the arts for most of his adult life.
Maybe that passion started when he helped on the construction of the Johnson-Humrickhouse Museum back in 1979.  Hathaway Construction was owned and operated at the time by his father, but Chuck helped to build that project.  He could have stopped with his service there.  Instead, Chuck continued to serve through donations, being a Friend of Museum, and serving as Vice President and President of their board.
His wife, Paula says he often jokes that he is the only member of their family that does not have a PAYING job at the museum!
And you simply cannot talk about Chuck's love of the arts without talking about the Footlight Players!
Chuck has been involved in every aspect of the theater…and it started many years ago…almost by accident.
It seems during the production of the Sound of Music, his wife Paula, had a role.  But the production was sorely low on men in the cast.  When Paula told him about the challenge, Chuck volunteered.  He said, that if all they needed him to do was stand in, he could manage that!  Of course, Chuck went to rehearsal only to find he had a prominent speaking role…and his love of the theater began!
Since then, Chuck has been on stage for at least 23 productions!  He has also served off stage in the role of producer, director, assistant director, play reading committee, stagehand and, yes, construction crew.  He has also served as the Footlight Treasurer for the last 28 years!  As his wife Paula says, "The theater is a part of him."
In addition to the theater, Chuck served the arts through the Pomerene Center for the arts.  Chuck was a board member, volunteer and donor of the organization since the 1990's.  And, as many of his nominators said, he was always willing to lend his expertise, equipment, and his team to help with a project to get it done.
One amazing example of this comes from the ashes of disaster.  Many of you remember the fire at the Park Hotel site, and the ashes of its remains.  As you may recall, the devastation was so bad, that part of Main Street was shut down.  When Anne Cornell and the Pomerene Center for the Arts worked to renovate that space, who did they call on to help?  Of course, Hathaway construction stepped up to help.
As Anne said, "No one would say accepting this role was a good business decision.  The only way it made sense was in the context of Chuck's commitment to the community and seeing it progress towards something new."
In that place, where the smoldering ashes of the Park Hotel once burned, the ArtPark is an example of this year's Coshoctonian doing what he does best…building.
Chuck is also a builder of Youth in Coshocton County.
In addition to the arts, which obviously serves our youth, Chuck has also been involved for many years with the Muskingum Valley Council, Boy Scouts of America.  He has served as a board member, and he and his wife Paula, established the Charles Hathaway IV Boy Scout Fund at the Coshocton Foundation.  The fund benefits local Boy Scouts by assisting them in achieving their dreams through many scouting adventures.
Chuck has been a builder of business, buildings, youth and arts in the Coshocton County.  But he is also a builder of community.
Chuck has served on countless committees, task forces, and teams with the aim of improving the community.
One simple example of this was the Strategic Economic Development Task Force.  Chuck was a part of a group of concerned citizens that spent a lot of time creating a Strengths, Weaknesses, Opportunities and Threats (or SWOT) analysis of Coshocton County.  The report was comprehensive and the group took a lot of time to get it right.  And that's great.
What's better though, is that Chuck was a part of the ongoing group that helped to coordinate efforts in the community to accomplish nearly all of the goals on that initial list.  Chuck attended each meeting with great energy, an optimistic attitude and an amazing insight into what was being done…and what needed to be done.
To this, I can speak…because I got a chance to sit in on some of those meetings.  Again, Chuck was the consummate builder.
A great story of Chuck's community involvement came from Lyn Mizer, Executive Director of the Coshocton County United Way.  Chuck served on the budget committee for the United Way and he came to Lyn one day…concerned.
He asked Lyn if she had read the Legal Notice in the Beacon about the housing development hoping to buy the old Pretty Products site.  Lyn's response?  "No!  Who reads those?"  Of course…Chuck does.  There was concern about what kind of housing that would be built at the site.  With Chuck's keen eye and encouragement, a large group of concerned citizens showed up at City Council to express their hesitation with this project…and it did NOT happen.  In this case, it's not about just building…but building things the right way that shows Chuck's character.
Chuck Hathaway is a builder.  He has helped to build a business, the arts, youth, countless organizations and Coshocton County as a community.
The true measure of the Coshoctonian is that our community is a better place because they were here.  In so many ways, and so many areas, we see that is certainly true when it comes to Chuck Hathaway
Thank you Chuck, for your service to Coshocton County.
Please join me in congratulating Chuck Hathaway as the 2019 Recipient of the Coshoctonian Award.
I am so proud to have been a part of this great evening celebrating the good work of Coshocton's leaders.  Congrats to all of the recipients!