We have been talking about the importance of bridging the Appreciation Gap for years.  What is the Appreciation Gap?  Most employers, leaders, and entrepreneurs believe they are showing their team appreciation.  But studies show that most employees don't feel appreciated or valued.  That creates an "appreciation gap" that leads to dissatisfaction on both sides.
And while there are plenty of ways to show appreciation, Employee Appreciation Day is right around the corner.  It might be time to step up and show your team you care with some amazing branded merchandise.  And if you like any of these, we have created a shop you can check out right here.
Employee Appreciation Day
Employee Appreciation Day is the first Friday in March and it gives a formal "excuse" for you to show your team how much they mean to you!  So here are a few really cool items to help you show up as a hero on Employee Appreciation Day!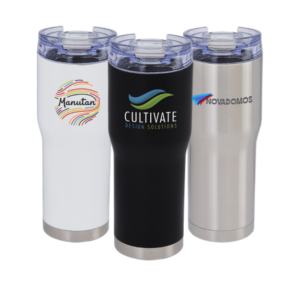 Urban Peak® 20 oz Altair Vacuum Tumbler
This copper-lined, vacuum-insulated deep draw liner maintains optimal drinking temperatures.  In other words, this is an awesome-looking piece that also keeps your hot drinks hot and your cold drinks cold.  It has a very high perceived value and you can even personalize it to make it extra special.  Learn more here.

Ultimate Utility Tote
This sturdy tote features a large compartment with a wire rim to give the tote shape and total functionality. It also has a sewn-in hard bottom for extra durability. Aside from its main compartment, it has a front pocket to store your smaller items and a 14-inch handle drop height. Your company name or logo can be imprinted onto the side of the bag, which is available in a variety of different colors. Fellow travelers and grocery shoppers alike will be jealous of your consumers for having such a useful and colorful item from your company!  Learn more here!

48″ arc – The Rebel Inverted
The Rebel is an umbrella featuring a revolutionary design that allows the water to push away when closing, making it easy when entering or leaving a car or through a door and keeping you dry in the process. Plus, the inverted closing action keeps the dry side of the umbrella on the outside when brought indoors.  Learn more here.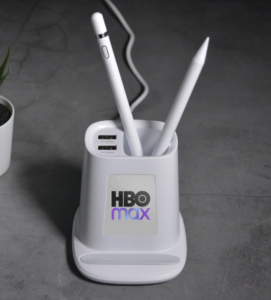 Desk Qi
The Desk Qi is a tabletop charging hub and stationery holder, featuring up to 10W of fast wireless charging (powered by type-c), and 2 additional USB-A ports for your electronic devices. Showcase your brand or message up to a full-color imprint with this must-have at-home or office tech item!  Learn more here.
But wait there's more!  We have created a shop that includes these amazing items and more here.  Browse, shop and buy right here.
Sign up to become one of our VIPs.  When you do you will get one email per week talking about the big ideas that can help you move your business forward.  Sign up here.