It feels like we have all been captured in some sort of weird time warp over the last month.  We have been asked to work from home, or not work at all.  Businesses that were not essential were shut down…mostly.  But this past week Governor Mike Dewine (who seems to be one of the nation's leaders on response to the Pandemic) has announced that Ohio will begin to open back up on May 1st.  Dewine was optimistic, but cautious.
Dewine said, ""We want to do this in a thoughtful way that engenders confidence and ensures customers and employees are safe."
If you are like me, this is welcome news!  I am excited to get back to work!  And let's face it, I am excited to turn the "business faucet" back on.  Small businesses, which are the backbone of the economy, need to create revenue again.  On the other hand, I want to keep my customers, my employees and my family safe.  We all do.  So I put together a list of a few products to re-open your businesses in a safe and responsible way.
Face Masks
If you had told me 3 months ago I was going to be wearing a face mask every day, I would have told you "I don't think so."  But as we have learned, a lot has changed as comedian Julie Nolke hilariously explains to her past self here.  The reality is, face masks are very likely going to become the new normal for a while.  We are all going to need them, and probably more than one.  And if you are opening a business, you are going to want your employees to have them.  Not only will it help keep your team members safer, it will also provide your customers some piece of mind as well.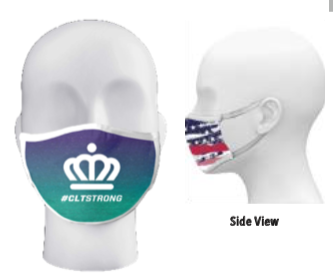 So if you are going to need face masks for your team, why not make them an intentional part of the employee wardrobe?  Your team probably wears a shirt with your logo on it (if not, why not?), so why not provide them with a branded face mask as well?
But if May 1st is the deadline we are all shooting for (and I know I am), then time is of the essence.  There are some great branded options on face masks, but production time can take up to 4 weeks.  So if you want to provide employees a comfortable mask (that they will actually wear) and have some branding impact, now is the time to act.  If you are interested now, please contact your HMC rep or click here to shop now.
Hand Sanitizer
There has been a run on hand sanitizer across the country, and the same has certainly been true in the Promotional Product industry.  But suppliers across the country are working feverishly (too soon?) to make more.  While the production time for most orders is between 6 to 8 weeks, it still makes sense to get it ordered right away.  In addition, the perceived value of branded hand sanitizer has never been higher.  I talk about the importance of perceived value here.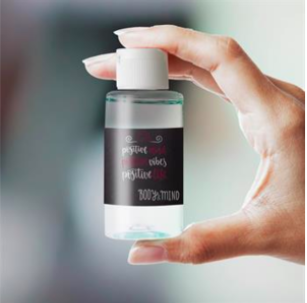 So when you are able to hand out sanitizer with your logo on it, you will be showing your heart…and hand out gold.  If you are interested in getting some ordered now, please contact your HMC rep or click here to shop now.
Signage
In any time of crisis, communication is key.  Whether through direct mail, video, social media, or email, it's more important than ever to keep your customers and prospects in the loop.  But what happens when you get them in the store?  That is where having proper signage can be a huge factor in communication…and safety.  Especially in a retail setting, these are essential products to re-open your business.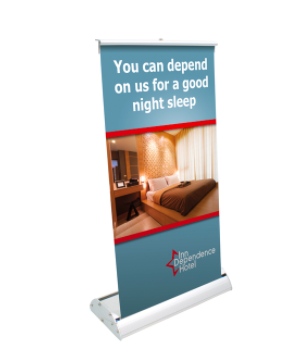 In order to make sure you help keep your employees and customers safe, you should consider having signs in your space that encourage social distancing (think stickers for your floor).  You could have standing signs that talk to customers about what you are doing to keep them safe or even have a sign at the counter to remind them to be safe.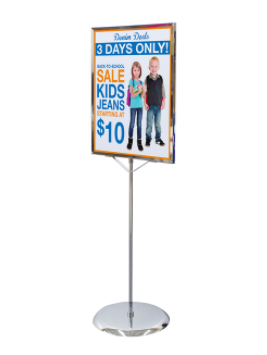 Either way, you want to make sure you communicate to keep everyone safe.  If you want ideas about signage options for re-opening, please contact your HMC rep or click here to get your order going right away.
For more guidelines for "Opening Up America Again," check out this document from NPR.  The goal is to not only get the country open for business again…but to do it safely.  If we can help you in any way, we want to do just that.  Again, if you are interested in any of these products to re-open your business, please check out this shop that we have set up just for this.
Make sure you stay up to date with all of our content here.  And if you want to use the next 5 days to work on refining and improving your marketing, consider taking our FREE 5 Day Marketing Course here.