Branded merchandise is one of the most powerful tools you have in your marketing toolbox. Sure, we sell promotional products. So, you can certainly expect that we're a little biased on the subject. But years of studies prove us right. Done well, branded merchandise powerfully impacts human behavior.
These are all impressive numbers. But it assumes one very important thing. To create results like this, you need to use promotional products correctly.
Like any other media, promotional products can be done wastefully, in-artfully, and even irresponsibly. All marketing channels can be done well, or they can be done poorly.
Don't believe me? Then just consider this billboard that asks you to stop texting and driving…while expecting you to read a paragraph.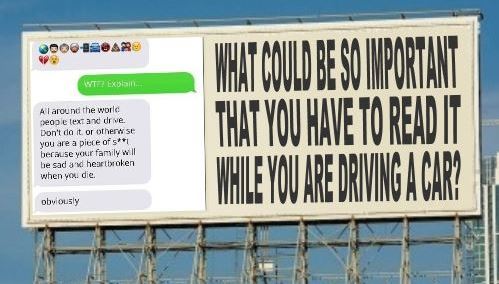 The point is, if you want great results with any marketing vehicle, you need to do it well.
The same is certainly true with branded merchandise. I have often said, you get what you pay for in promo. If you want to represent your brand well, take the time to consider which product you put your brand on! It seems simple, but so many organizations just gloss over it!
At a basic level, the best branded merchandise is useful. As marketers, it's easy to lose sight of that. We want the newest, cutest, shiniest branded piece…and those are fun.
But if you want your marketing message to stick, it needs to be useful to the people you give it to.
Want to have a promotional product with a great ROI? Focus on perceived value.
Some of the best branded merchandise campaigns are built around high perceived value. What is perceived value in promo? It simply means that your customers think you spent more on the item than you actually did.
Leveraging perceived value in promo is when you only spend $5 but create $10 of goodwill.
When you focus on high perceived value items, you create brand affinity and fix the appreciation gap with your customers. You show them how much you appreciate them. And you create promotions that stick around. People don't toss items that are genuinely useful, that make their way into the everyday routines of your customer's lives.
Which promotional items have the highest perceived value?
There are plenty of promotional products which meet these criteria. Useful promo items with a high perceived value are available at any price point. Knowing your audience, your market, and your target demographic helps narrow down your options to those that will give the biggest ROI in terms of goodwill (we can help with that, of course).
There are a few products that often do well across many demographics. Consider these…
Lip Balm: Lip Balm is an inexpensive marketing piece that outperforms its cost. Customers know lip balm retails for $2 to $3, but it will only cost you about $1, with your logo.
Vacuum Drinkware: Yeti has a great product. And the company has done an incredible job increasing the perceived value of this category. Work this to your advantage. Your customer thinks this product should cost $30, and you can do it for $10 or $15. You'll dazzle your customers with your generosity. (As a side note, this is why I say you should never buy a Yeti in promo.)
Custom Calendar: Each year, people head to malls to spend $20 to $25 for their wall calendar. (Yes, people still use them.) Calendars let you put your marketing message on their wall (for a whole year) for just $5 to $7. Well, it's a no-brainer.
These are just a few items that pass the perceived value test in branded merchandise. There are plenty more! Just make sure you spend the time to consider one simple question as you create your next campaign: Am I adding value?
Thanks for reading! Want to keep up with all of our content? You can do that here on our blog page. Oh…and now is a great time to upgrade your marketing education. Check out our FREE 5 Day Marketing Course here if you want to create more targeted and effective marketing.