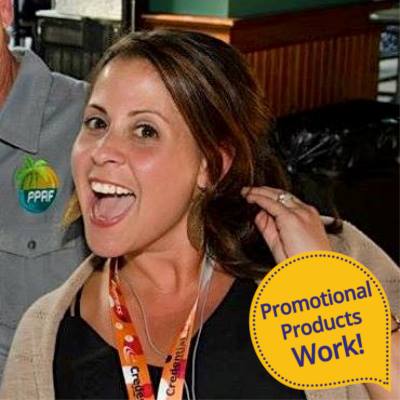 Welcome to our awesome blog post series for Hasseman Marketing called:
"Brand-ecdotes!"
Each week we will talk to a branding all star about what makes the Promotional Product advertising media so special!
This week we talk with Dana Geiger. Dana is the Regional Relationship Manager for PPAI. She is a rock star with tons of experience and knowledge in the Promo World!
1. What is your all time favorite Promotional Product and why?
The mug. It's not a sexy answer, I realize. But people identify with mugs. I choose a mug each morning from my overly cluttered mug cabinet that reflects my mood. I have some pretty irreverent mugs.
2. Can you name a Promo Product that you have that STILL reminds you fondly of an event, person, organization? If so, can you tell us that story?
I have a windbreaker from about 10 years ago. I know now that it is a Charles River piece that retails for about 34.99. It was given to me as an incentive prize for raising money for the Alzheimer's Association. But it is so much more than all of that. Each dollar I raised that EARNED in pursuit of that windbreaker was another opportunity to tell people about my grandmother. As such, that windbreaker connects me to her memory. I feel happier when I wear it. And yes, I actually do wear it.
3. What is the current product you use all the time?
A silicone tech wallet. I have been through many of them (I am tough on phones). I travel fairly frequently and often find myself wanting to carry as few items as possible. The tech wallet makes this easy. I always know where to find my room key, my ID, and a credit card.
4. What is an idea/product that you think organizations UNDER use?
I think many companies underestimate how products they choose reflect upon their brand. Without sounding critical, I think many companies are lazy about the products they and more importantly, are even lazier with the messaging they put on those products. A well thought-out, clever product and message choice will not only reinforce a brand subconsciously set the company apart from others almost guaranteeing a future partnership with the consumer.
5. What do you think is the best thing about Promotional Products as an advertising media?
Promotional products are not only the most effective form of advertising, they are also the most ingratiating. Not only can marketers convey a message that lasts, but their audience will thank them for doing it. The rumors are true, they work!
And…that's another awesome edition of Brand-ecdotes! Thanks to Dana Geiger for taking the time to jump in!
Make sure you never miss a post, video or podcast! Sign up for the Hasseman Marketing VIP newsletter here.