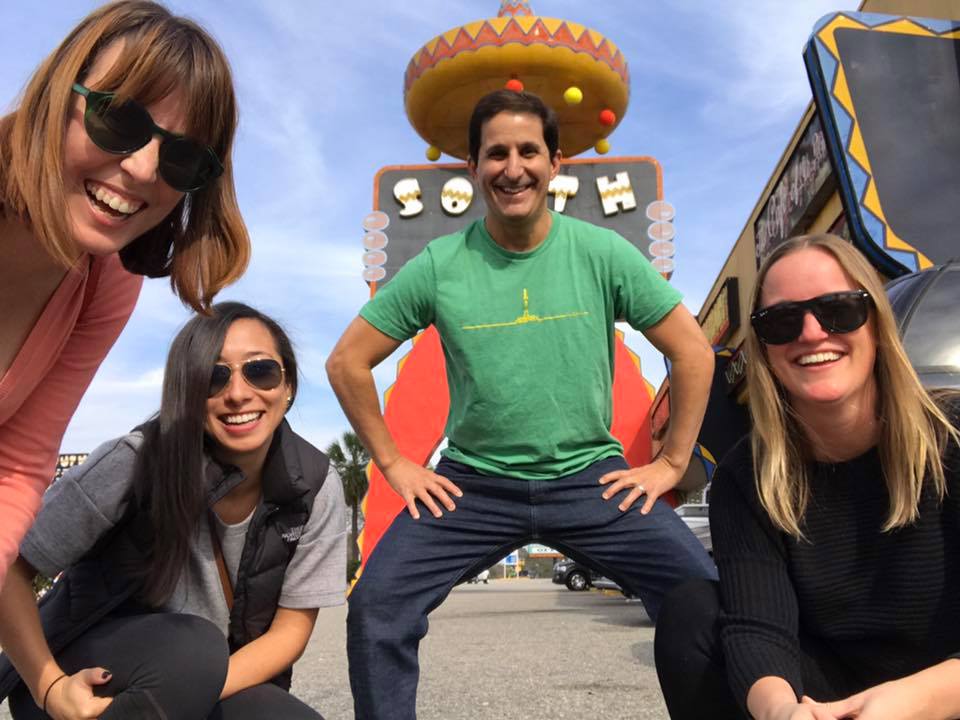 Welcome to our awesome blog post series for Hasseman Marketing called:
"Brand-ecdotes!"
Each week we will talk to a branding all star about what makes the Promotional Product advertising media so special!
This week we talk with Danny Rosin! Danny is the co-founder of Brand Fuel (a progressive and fun distributor in North Carolina). He also helped to create BandTogether, which is a super cool not for profit that raises money through their love of music to make their community better!
1. What is your all-time favorite Promotional Product and why?
From James Dean to Lebron. Marlon Brando to Pedro. T-shirts are memes, walking billboards, novelties, fashion statements, great bang for the buck, utilitarian…universal weekend wear. T-shirts were the gateway to me falling in love with and being a part of this industry. With a logo/design, they have incredible sentimental attachment.
Postscript for corporate swag buyers out there: Provide shirts that people want to wear versus have to wear.
2. Can you name a Promo Product that you have that STILL reminds you fondly of an event, person, organization? If so, can you tell us that story?
Before Brand Fuel ever existed, I was running pretty wild with my now business partner of 20 years, Robert Fiveash. As teenagers, we shared a lot. We played the same three sports in school (football, wrestling, lacrosse). We loved the same music (Ramones, Clash, CCR, Pink Floyd). We even dated a few of the same girls (but not at the same time).
We also co-lead a high school club that provided resources to children in developing countries through Operation Smile. When we started Brand Fuel, Robert gave me his 15-year-old Operation Smile t-shirt as a memento. I have kept it, using it as a prop when I speak with high schoolers who are leading similar Operation Smile student clubs 30 years after we started that first club. Anyone looking at it would say the shirt is on life support. It's faded, worn and full of holes, like a Velveteen Rabbit. It is associated with so memories of my friendship with Robert. The shirt serves as a metaphor for the things we have shared. And it is a reminder to never forget where we came from and that there are many people much less fortunate that we should lend a hand to whenever possible. It's always possible.
3. What is the current product you use all the time?
My OtterBox iPhone case by Branded Logistics. It keeps my multitasking device safe and looks righteous too.
The runner up is a journalbook. The most recent one where I write musings is made from a recycled vinyl Aretha Franklin album, from supplier Vinylux. My album journal is a head turner, makes people jealous (so I have been told) and is a conversation starter. That's the power of promo.
4. What is an idea/product that you think organizations UNDER use?
Cause-marketing. I am a believer that the 5th "P" of marketing, soon after price, place, promotion and product, is PURPOSE. Organizations are shifting their marketing dollars to a more purpose-driven model where stakeholders (employees, environment and local community) versus shareholders matter more. When delivered with integrity, an investment in shareholder value will be associated with the positive result of healthier recruitment and retention for both employees and clients. B Corporations are leading this charge internationally. I encourage you to check out what our industry is developing through the PromoCares initiative, to get involved and then, use your business as a force for good.
5. What do you think is the best thing about Promotional Products as an advertising media?
When our industry is doing its job justly, no other form of media can match up. While promotional products are the only form of advertising people like to receive, a physical promotional product can also serve as the trigger for human to human connection.
The effective design, delivery and use of promotional products starts a conversation. Opens a door. Helps recognize an employee. Provides a canvas to feature loyalty to a school, for a band or a cause, for example.
When we aren't putting logos on crappy, cheap items that end up in landfills, which is a liability for our client's brands and our industry, our industry will be more associated with what our customers want – utilitarian marketing. Yes, more of that, please.
Wow! Special thanks to Danny Rosin for taking us along this week! Great stuff!
Make sure you never miss an update! Sign up for our VIP Newsletter here!