It's time for the latest Delivering Marketing Joy episode, and this time Kirby gives a call out for potential guests…and gives three tips on productivity! It's a short and sweet episode that you won't want to miss. So watch it here.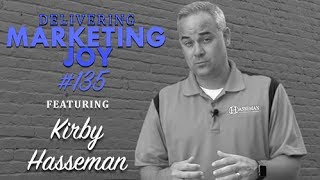 As you can see from watching today's episode, it's a little different! First off, we are always on the look out for exciting guests for the show. We do Delivering Marketing Joy each and every week. So if you, or someone you know, might be a great guest, please let us know. Just email us here to let us know who to contact! But wait! There's more! In addition to a call out for potential guests, Kirby touches on three things that help to create content or to get more done. Creativity: There is a common misconception about creativity. People believe that you have to be "creative on the spot." It's like when you meet a comedian and blurt out "say something funny!" This idea of spontaneous creativity takes away from the hours of work it takes to really create something. You have to create a lot of bad, in order to create the good. So just create. Squeezing the Most: The most impressive people tend to get the most out of every minute. If you have a gap in your schedule, you could check email or surf Facebook. We have all done that. But instead, try to milk 3 more calls out of that time. Get the most out of every minute and you will get a lot more done in your day. Consistency: If you want to create a brand, build a business or have success in sales, consistency is nearly always the key. It's simple…but it's not easy. Delivering Marketing Joy is no different. There are times when it's a struggle to get a show out. That's when you get creative to keep them coming. It shows respect to yourself and to your audience. The best of the best show up…every day.
Want to learn more about Hasseman Marketing, check out our About us page here. As always, you can shop online here. And if you are a Promo Pro, you can get our Sales Playbook here.
Finally, feel free to sign up for our VIP list if you want to get updates and special each week.