We all know chocolate lovers, in reality most of us are chocolate lovers! So when we say chocolate gifts many of you probably sit up and pay attention. The majority of the public love it when they receive an edible gift. So we at Hasseman Marketing have come up with some ideas….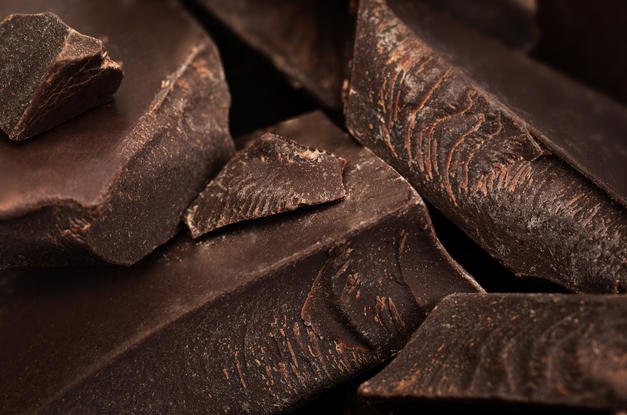 CUSTOM CHOCOLATE DELIGHTS GIFT BOX: Who doesn't like chocolate? What a delicious idea to let people know you care. Not only can you give the people what they want but these chocolates are large enough for a group or a deserving individual! You can also customize milk or dark chocolate! Holding 32 chocolate pieces can you can choose your theme to frame your logo!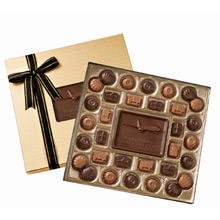 COLLECTOR TINS – ENGLISH BUTTER TOFFEE & DARK CHOC ALMONDS:The custom imprinted Collector Series tin is perfect for gifting and sharing popular snacks. This tin features 19 oz. of English butter toffee and dark chocolate almonds, making this a sweet and memorable gift! Choose between our festive stock designs or create your own full-color lid using photos and graphics!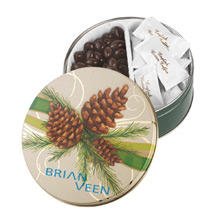 CUSTOM CHOCOLATE COOKIES: Looking for a cheaper option? Combine chocolate with a cookie and get a great gourmet marketing message. Our promotional chocolate logo cookies let you harness this winning combination for an elegant; unusual business tool. Classic butter cookies are topped with creamy milk or dark chocolate, these cookies are great for client giveaways, business meetings, trade show tables and employee gifts.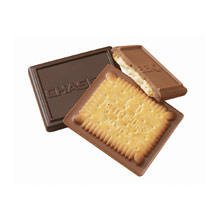 TASTE TEMPTING TOWER OF APPRECIATION: Let your mouth water with this elegant silver and black tower boasts some great treats… Gourmet Chocolate Chip Cookies, two and one-half ounces; Chocolate Covered Peanuts, six-ounces; Chocolate Sea Salt Caramel Corn, five ounces; and crunchy Ranch Flavored Peanuts, five-ounces. You can't go wrong with this delicious gift.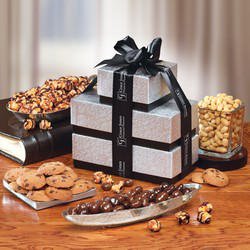 PEPPERMINT BARK: Let your employees begin with a delicious, creamy confection on top of a layer of dark chocolate, then add a touch of genuine peppermint oil and a generous sprinkling of real candy cane bits. This navy blue gift box contains five ounces of delicious bites of Thank You!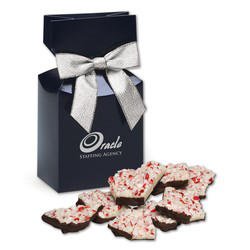 FROSTED PRETZELS: The mixture of the smooth, sugary covering with a crisp, salty pretzel earned high praise around our home. The pretzels are so rich that just one is enough for a snack, but that doesn't stop people from coming back for seconds and thirds. One-half pound in the wooden collector's box imprinted with your logo.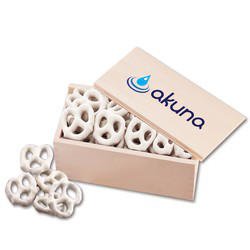 STANDARD MAJESTIC NUTCRACKER TOWER: This whimsical piece will bring a smile to the face of every recipient! He's filled with a wide array of gourmet treats, so there's plenty to share with associates or family and friends. After the treats have been enjoyed, this nutcracker makes a great holiday centerpiece.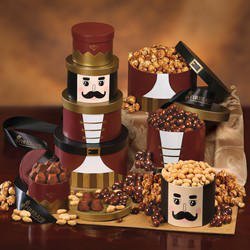 ULTIMATE CHOCOLATE ASSORTMENT: This gift is perfect for your favorite chocolate lovers. We fill this elegant robin's egg blue gift box with a mouth-watering collection of the finest gourmet chocolates. Allowing them to enjoy their favorite assortment of nuts!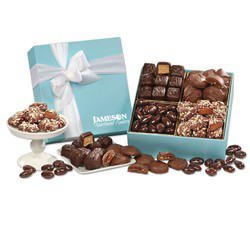 The "PARK AVENUE" ULTIMATE TOWER OF TEATS IN RED: One Stop Shop! Here's a great way to show your appreciation and create some real excitement! Just imagine your customers or employees opening these rich "Park Avenue" style pillow-top boxes to discover this wonderful collection of premium confections… crunchy English Butter Toffee, smooth Cocoa Dusted Truffles, creamy Peppermint Bark, our famous Chocolate Covered Almonds and more. We foil-stamp your logo in red on white satin ribbon. They'll love you for sending this tower!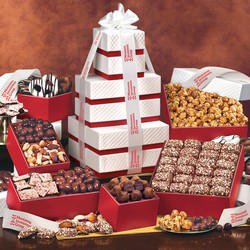 Want to keep up all the time? Make sure to join our VIP List! Our VIP's get an email with the latest content…and other special offers as well. Join here.