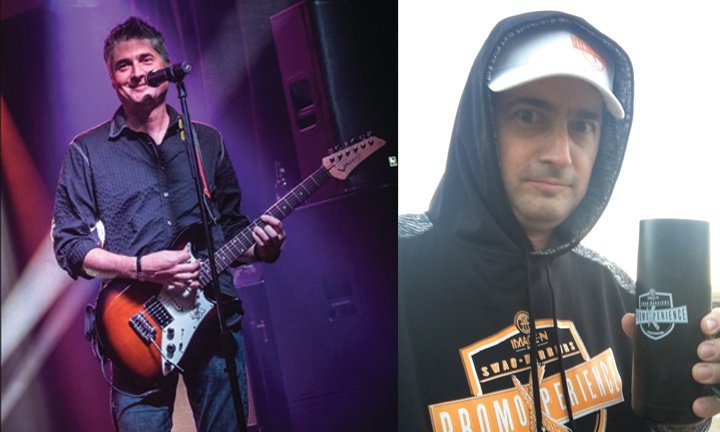 Welcome to a brand new blog post series for Hasseman Marketing called: "Brand-ecdotes!" Each week we will talk to a branding all star about what makes the Promotional Product advertising media so special! This week we talk with David Shultz! David is the Vice-President of Operations for DistributorCentral, a technology, search and website provider in the Promo industry. They even host the Hasseman Marketing search website! David is a tech guru, musician, athlete and more.
1. What is your all time favorite Promotional Product and why?
I'm a sucker for drinkware. And before you decide that my love of drinkware is a by-product of having a drinking problem…let me just say that I drink water all day. Having a 30oz vacuum tumbler on my desk that keeps water cold for hours is a sure-fire way to make sure I take in enough water every day and don't spend half my day walking to the water cooler. I'm also a big fan of t-shirts. Not because they're cliche or over-used, but because I love a really good design and when I find one I'll wear it over and over.
2. Can you name a Promo Product that you have that STILL reminds you fondly of an event, person, organization? If so, can you tell us that story?
Easy – 18oz Viking Water Bottle from Crown Products and my super-soft Colorblock Hooded Fleece from S&S Activewear (I know, that's two items…but they're both from the same event!). Every time I wear the fleece and use the water bottle I smile and remember the shenanigans while spending 36 hours in the desert with a group of rock star #promoWarriors. The fleece kept me warm during those desert nights, and I think at some point that weekend I used the bottle to carry water, beer, gatorade and coffee and it performs admirably for all four.
3. What is the current product you use all the time?
See answer to #2. Also use my OrigAudio Mission Pack every day (and it's taken a beating over two years of travel and still going strong) and my Urban Peak vacuum tumbler from Starline that keeps coffee hot for hours on end gets daily use. Probably a little too much.
4. What is an idea/product that you think organizations UNDER use?
Despite the avalanche of powerbanks and thumb drives in the industry, I think some companies are still under-utilizing tech products. I was in a restaurant the other night where there were no fewer than four branded powerbanks sitting on the table during dinner. That was two hours of uninterrupted advertising for those brands. The possibilities are endless, even if they aren't obvious…phone cases (as Roger Burnett likes to say…"the new t-shirt"), powercord lanyards, memory stick keychains, phone stands, phone wallets, Bluetooth tracker tags, earphones, Pop Sockets…the list goes on and on. I love drinkware, bags and apparel, but some of the latest promo innovations are coming in the tech sector.
5. What do you think is the best thing about Promotional Products as an advertising media?
It's TANGIBLE! I mean, can you carry around a magazine ad, banner ad, tv commercial, or newspaper ad with you while promoting a brand in real time? I suppose you could…on your tablet…but what's better than showing off your love of a brand (and, for advertisers…having people carry your brand around on their person) with a fun, useful, walking advertisement?
And…that's the first edition of Brand-ecdotes! Thanks to David Shultz for taking the time to jump in on this brand new project!
Make sure you never miss a post, video or podcast! Sign up for the Hasseman Marketing VIP newsletter here.