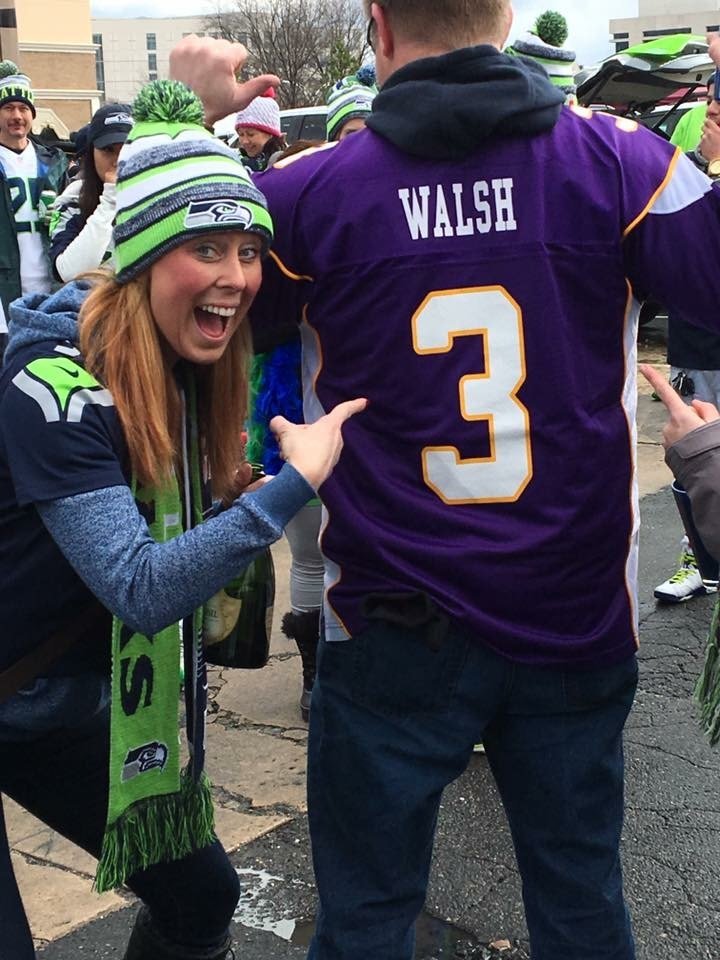 Welcome to a super awesome blog post series for Hasseman Marketing called:
"Brand-ecdotes!"
Each week we will talk to a branding all star about what make the Promotional Product advertising media so special!
This week we talk to Amanda Delaney from Imagen Brands. Amanda has been all over the Promo industry and lends her story and personality to us today! Take it away Amanda!
1. What is your all-time favorite Promotional Product and why?
I have so many of my products that I absolutely love, and feel like I should definitely plug them, but my all time favorite promo product is a tee shirt. With all of the amazing products in our industry, a tee shirt will always be a walking billboard. Furthermore, I have so many branded tee shirts from events or times in my life that remind me of that time, and those memories are so awesome to have every time I'm wearing one. I recently went to an event in Raleigh where some industry friends brought tee shirts to hand out, and I love wearing them because it reminds me of the epic weekend I had. Tee shirts are by far my favorite.
2. Can you name a Promo Product that you have that STILL reminds you fondly of an event, person, organization? If so, can you tell us that story?
My mom died almost three years ago, and when I was cleaning out her house I found a Seahwaks lanyard under her bed. I'm from Seattle, so I 'm a die hard Seahawks fan, but that all comes from my mom as there isn't a bigger fan out there than she was. I hated when she watched football growing up, until she explained the game to me and we eventually came to talk Hawks all of the time. When I found it, I had been thinking at the exact same time how our last conversation was about the upcoming season and how I wouldn't have any more seasons with her. That stupid lanyard brought me to my knees, and I laughed at the same time thinking of my mom telling me "don't be sad, I'll get to watch them in Heaven". I have that lanyard on my keys to this day, and I put it around my neck multiple times a day carrying product into my meetings. I have never in my life loved a piece of cloth tied to a snap as much as I love this lanyard.
3. What is the current product you use all the time?
For sure it's my (Crown's) braided long cable!! It's a six foot extension cord to your existing phone charger cable – IT'S GENIUS!! I spend so many nights in a hotel that when you have that to lay on the right side of the bed and still have your phone in your hands (I know, first world problems), it's amazing. I love it so much there's one one the five chargers I have in my house and car. It's such a cool thing.
4. What is an idea/product that you think organizations UNDER use?
Spec samples. SPECS SELL. And when you have a good partnership with a supplier,we will do that for free (atleast I will), but there's also something to be said in the distributor putting some skin into it. Either way, the idea of specs is so underused, and I really wish it was taken advantage of more than it is.
5. What do you think is the best thing about Promotional Products as an advertising media?
First and foremost it's the people. I have never met more driven, passionate and solid people as I have than those I meet in this industry. So selfishly for me, that makes me love what I do even more. I'm so inspired by so many people who love what they do as much as I do, and it's a wonderful thing to be a part of. But on a larger scale, people love what we do for them! I've head it a million times and I stand by it, we're the only channel of marketing and advertising that people spend money with us and say THANK YOU. There is nothing better than seeing your product out in the community or on Facebook, and you know that not only did you do that for your customer, you helped your customer do that for theirs. It's a really fulfilling and satisfying feeling that I definitely live for every day.
And…that's the another edition of Brand-ecdotes! Thanks to Amanda Delaney for taking the time to jump in on this project! Awesome stuff here!
Make sure you never miss a post, video or podcast! Sign up for the Hasseman Marketing VIP newsletter here. And if you want to look for your own amazing branding products, you can do that here.