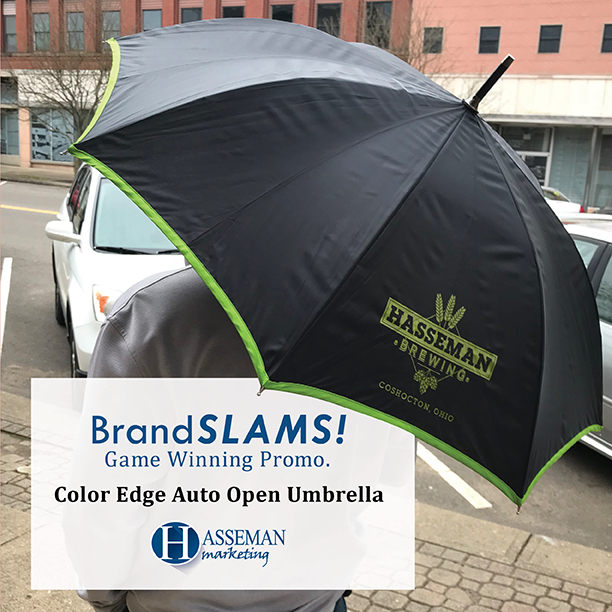 It's time to bring "Marketing Joy" to the masses! At Hasseman Marketing we pride ourselves in providing amazing promotional premiums to customers all over the United States. And frankly, we want to provide the right product to the person for the right situation. It's NOT just about slinging SWAG.
That's why we help you ask the right questions (here are 5 you should ask before your next promotion).
On the other hand, we want to be THE place you look for the best cool products for every occasion. We want to create "Brand-Slams" for you and your organization!
This week's featured product on the BrandSLAM is the Color Edge Auto Open Umbrella. An umbrella is nearly always a great promotional gift. Why, you ask? Great question. Because umbrellas are extremely useful and have a high perceived value. The fact is, everyone needs an umbrella. But no one wants to buy one for themselves. As we always say, if you are in Wal-mart buying an umbrella, you are likely angry…and wet!
Now as for THIS great umbrella, you can see the great looking Color around the edge. This is a great way to coordinate with a logo to make it look custom. The smooth auto open feature makes it easy to engage when you need it. And of course the size is generous enough to keep you dry…and that's the point!
It's hard to go wrong with this Color Edge Auto Open Umbrella. You can purchase them online here…or you can always talk with your Hasseman Marketing rep. If you don't have a rep or just want to ask a quick question, don't hesitate to email us here! Either way, this Umbrella is sure to be a BrandSLAM for your next promotion…and is sure to make you look great.
To make sure you stay on top of all of our content (including the next Brand Slam) make sure to sign up for our VIP newsletter here.