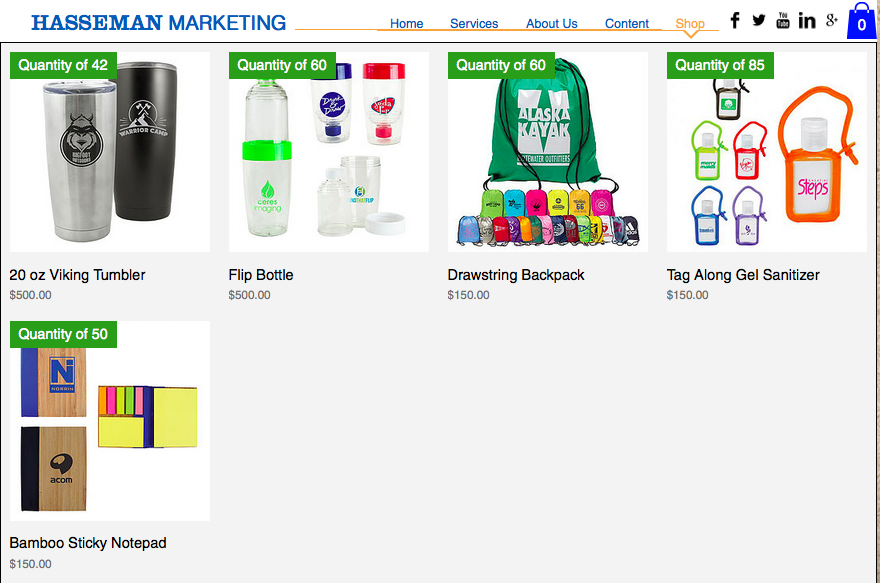 It's time for the Fast Five! What is that? Each month we will take a look at some promotional products that you need to know about…and share them with you! AND…(yes this is a big and)…we have them wrapped up in a One Price Solution. What does that mean? It means that we have each of the Fast Five with a "all in" price. So if you see that a product is $150, then we mean that. It will be $150 for everything (minus tax). So there are no additional setups, no shipping, no artwork…the pricing is "all in!" With all of that said, are you ready to see the Fast Five for July? Let's do it! Bamboo Sticky Notepad: This is a fantastic item that is eco-friendly and has a low cost per impression. If you want a promotional item that will "stick around," then this is a great one to consider. You get 50 of them for the $150. See more here. Tag Along Gel Sanitizer: Do you attend meetings, tradeshows or other events? If so, this is the perfect promotional item! It gives you an item that hangs around, and it is perfect for anyone that is shaking a lot of hands! You get 85 of them for only $150. Check it out here! Drawstring Backpack: Want a no-brainer? This is your item. Nearly every promotion, event or team needs a bag. With a nice big imprint area, you get the chance to promote your company on the back of everyone you give this too. For only $150 you get 60 of these…so click here to learn more. Viking Tumbler: Think high quality double walled tumbler when you think of the Viking! This is perfect for summer road trips or pool sitting…whether you want your drink to stay hot or cold! A perfect gift for your best clients, the Viking is sure to make them smile! And for $500 you get 42 tumblers with your one color logo. Check it out here! Flip Bottle: Are you the kind of person that likes "different" and "new?" Then this is the promotional item for you! The Flip Bottle is both a 32 ounce water bottle AND a double wall tumbler. It just depends on how you Flip it! For $500 you get 60 of these with your one color logo. Learn more here. That is your Fast Five for this month! If you need more information, please contact your Hasseman Marketing representative!
Hasseman Marketing is a full service Marketing firm that specializes in promotional products (known as SWAG), video production, graphic design, social media management and more. We Deliver Marketing Joy!
If you want 3 awesome tips to Super Charge your SWAG, fill out the form to get the free report below! It's time to take your promotions to the next level.