The Word of the Week is Bootstrap! In this video, Kirby discusses how you shouldn't just rely on the newest and fanciest methods. So you may be imagining a Bootstrap as a literal term, a loop of leather on top of a boot to help pull it on. I myself had to do a bit of research to find out what this word actually represented as far as a business term. According to Webster's Dictionary: "Bootstraps or bootstrapping is to pull oneself up by one's bootstraps, to help oneself without the aid of others; use one's resources." It is essential to rely on yourself and what you find to works best for your company. Don't be afraid to go back to the basics! A simple thing like a handshake can let the customers see what your company is really about. Also, allowing people to give feedback can help you assess your business. Don't be afraid to have faith in your own efforts and resources, they will give you a certain perspective that will help grow your business. Although it is important to keep an open mind and look for different opportunities, remember not to throw the old stuff away if it still works. It is imperative for a company to be self-generating and self-sustaining, two concepts which tie in nicely with bootstrapping. A company needs to be able to generate its own ideas and bring in its customers. Without this, a business would cease to exist!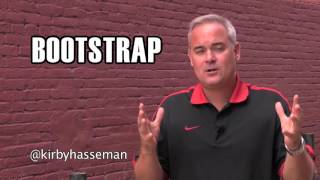 So, when things seem overwhelming and you just feel trapped – take a "Bootstap" look at yourself. To advance and accomplish your goals you need to trust your business experience. Encourage others to "Bootstrap" as well!
Want to keep current with our business tips? Make sure to join our VIP List! Our VIPs receive an email with the latest content…and other special offers as well. Join here.